Analytical Weighing Balance
UP Scales provide a wide range of branded Analytical weighing balances which can even weigh a single droplet of water.
We provide an Analytical weighing balance Capacity of 50 gm, 100 gm, 120 gm, 150 gm, 180 gm, 200 gm, 300 gm, 500 gm, 1 kg, 2 kg, 3k g & 5 kg. and readability of the Analytical weighing balance is 0.001 gm, 0.01 gm, 0.1 gm and more.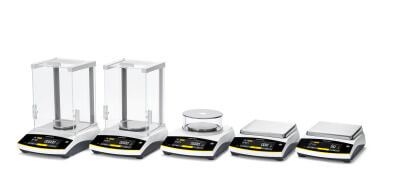 Measuring weight is the most important attribute in all industries. Weighing machines are super precise as well as perform the job of measuring the mass in a unique manner. Balance type is especially dependent on its readability. Normally, the analytical balances are the common group of the balances, so they play an important role in the weight accuracy compared to the precision balances. When you are looking for well-defined measurements, then choosing the Analytical Weighing Balance is one of the finest options. They are the best fit for your measurement to the extent and assure in saving you more time.
Need For Analytical Balance: Normally, the Analytical Balance is a suitable option for providing the readabilities to about 0.1 mg or 0.0001. These are quite different from other precision balances that offer readability from 1 g to 0.001 g. apart from the others, Analytical Weighing plays an important role in measuring the mass of the object that is placed on the load cells. Analytical balances would especially feature the draft shield even to the smallest decimals. The main reason for choosing the Analytical balances system is that they could easily measure accuracy. The Analytical balance features the draft shield, which helps to easily keep out the dust particles. Balances are a little more expensive than precision balances. They are suitable for testing in the lab by providing the perfect measurements.
Perfect For A Variety Of Industries: Digital scales help the industries maintain precision as well as accuracy with measuring the goods. Key benefits of industrial digital scales with providing greater capacity compared to standard mechanical scale. These are mainly designed to weigh large objects accurately. Whether you are in the logistic industry, pharmaceutical industry, or any others, then choosing the appropriate Weighing Balance is quite an awesome option. Digital scales are highly versatile, so they are suitable for weighing all types of objects. Digital platform scales are built to withstand many numbers of attributes that include stress even in the warehouse.
Ultra-High Precision: Analytical-based Weighing Balance scales provide ultra-high precision results under all circumstances. Upon choosing the digital platform scales, it is suitable for performing the well-counting goods. Chances of error are low proving to be a suitable option. These are 10 times better and more accurate than any other attributes. Businesses can handle counting goods with the daily operations. It makes complete, precise packaging.
Comply With Industrial Regulations: Digital industrial platform scales comply with the complete industrial regulation based on the standards that are laid by our country. Normally, these are special digital platform scales suitable for certain industries. It complies with the complete regulations of a particular industry. The scale provides accurate measures for getting the complete attributes. No matter what the requirement is, choosing the Analytical Weighing Balance scale can be used for everything. There is some business that requires a digital platform scale for weighing goods and products that enters the facility. These are also a suitable option for enhancing productivity businesses with producing the large quantity goods even without any hassle.
UP Scales Provide Analytical weighing balances of world number weighing companies such as OHAUS, CAS, Mettler Toledo, UP Scales, Maxtron, and More.
Analytical weighing balance uses in Laboratory Scales, Jewellery Scales, Pharmacy Scales, Sampling Labs Scales, Industries, and in More applications.
Analytical Weighing Balance
Showing all 29 results
Analytical Weighing Balance, Calibration Certificate, Calibration Weight, Cas Weighing Scale, Cast Iron Weight, Computer Interface Weighing Scale, Counting Weighing Scale, Electronic Weighing Machine, Essae Crane Scale, Essae Weighing Scale, Industrial Weighing Scale, Jewellery Scale, Label Printing Scale, Laboratory Scale, Legal Metrology Department, mettler toledo jewellery scales, Minebea Intec, OHAUS Weighing Balance, Pharmacy weighing scale, Piece Counting Weighing Scale, Price Computing Scale, Sansui Jewellery Scale, Testing Weight, UP Scales, Weighing Machine, Weighing Machine For Shops, Weighing Machine With Printer, weighing scale, Weighing Scale Accessories, Weight Indicator

Calibration Certificate for Weighing Scales