Laboratory Balances Sartorius | Capacity 2.7 gm & Readability 0.0001 mg | Cubis Weighing Modules
A wide selection of ultramicro, micro, analytical, and precision balances allows you to choose any entry-level to high-performance balance.
With more than 140 years of experience and quality "Made in Germany," we offer the best weighing option by excelling in speed, repeatability, and accuracy. They feature a monolithic weigh cell – a technology that we first introduced and that continues at the leading edge in lab weighing.
Cubis Premium Laboratory Balances
Universal balances often only offer limited options to adapt them to special workflows in laboratories. Therefore, standard operating procedures (SOPs) must frequently be adapted to the existing functionalities of laboratory balances.
This does not apply to Sartorius Cubis they are the first laboratory balances that you can integrate into your individual workflows, as well as to adapt to your weighing containers and the conditions at your workplace by using accessories and mechanical extensions.
Since we launched the Cubis® range of premium laboratory balances in 2009, it has become the benchmark for use in regulated sectors that impose the highest requirements, such as in global pharmaceutical labs.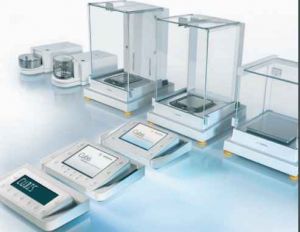 Standard, Personalized, or Fully Customized?
Modular Configuration:- The first series of laboratory balances to feature a completely modular design, Cubis® enables you to combine your choice of display and control unit, weighing module, data interface module – and much more. You can choose from thousands of options to configure your balance to suit your individual needs and obtain the optimal solution for integration into your process.
The Cubis Operating Design
Beyond the Q-Guide standard user interface, Cubis offers you personalized solutions with Q-Apps. You can choose from a wide variety of downloadable Q-Apps for laboratory applications. The advantage is that you and your operators can adapt or fully personalize them according to your process workflows or even configure them to meet your special requirements right from the start.
The Right Draft Shield for Any Task
All draft shield models for the Cubis offer clear, practical advantages over conventional lab balances.
DF Draft Shield for Filter Weighing – Manual stainless steel draft shield specially designed for ultra-accurate weighing of filters; for balances with 0.001 mg or 0.0001 mg readability (weighing modules 6.6S or 2.7S; not for 3.6P).
DM Draft Shield – Automatic ultra-micro and microbalances draft shield with learning capability; for models with 0.001 mg or 0.0001 mg readability (weighing modules 6.6S, 3.6P, 2.7S).
DI Draft Shield – Automatic analytical balance draft shield with an integrated ionizer for all models with 0.01 mg, 0.1 mg, or 1 mg readability and for model 5202S.
DA Draft Shield – Automatic analytical balance draft shield for all models with 0.01 mg, 0.1 mg or 1 mg readability and for model 5202S.
DU Draft Shield – Manual analytical balance draft shield for all models with 0.01 mg, 0.1 mg, or 1 mg readability and for model 5202S.
DE Draft Shield – Manual draft shield for all models with 1 mg readability and for model 5202S.
DR Draft Shield – Removable, flat draft shield made of stainless steel for all models with 1 mg readability and for model 5202S.
Cubis App-Solutely Individual
Uniqueness Wins:- Turn your Cubis® lab balance into a Cubis® individual by integrating customer-specific applications, called Q-Apps. These are downloadable application programs that guide you step by step through a specific workflow sequence.
Q-Apps ensure that the procedures described in the corresponding SOPs are observed at all times. This makes Q-Apps an attractive alternative to implementing external middleware.
Standard or Personalized
Besides individual Q-Apps that are performed according to your specific application, a variety of solutions for differential weighing, formulation, and average weight control, or checking the net quantities filled, are available as standard Q-Apps.
Standard Q-Apps additionally provide solutions for defining the starting point of your balance's operating range as well as for easy pipette calibration. With Q-Apps, you can carry out a specific workflow without needing to connect to a computer.
The Sartorius App Center: Download and Test Your Preferred Apps
You can readily download any standard Q-Apps from the Sartorius App Center and install these from an SD card in a Cubis laboratory balance. Just test the Q-Apps of your choice for 30 days free of charge to discover all their winning capabilities for increasing efficiency in your daily lab work.
Individual Integration into Your Application
Touch-Free Draft Shield Operation: The motorized draft shield can be opened and closed without being touched – just a simple movement of your hand over the infrared sensor YHS01MS is all it takes. This provides additional safety, especially for applications involving toxic substances. In addition, the IR sensor can also be used to trigger other functions, such as printing, isoCAL or ionizer, etc.
Q-Grid Pan – This gridded weighing pan, Q-Grid (accessory option YWP03MS), is available for all Cubis models with readability of 10 mg and 100 mg, except for model 5202S. Q-Grid lets you easily operate a balance with a large pan under laminar flow in safety weighing cabinets, workbenches, or even in fume hoods, without restricting its performance. This saves considerable effort in busy pharmaceutical laboratories.
Q-Grip Holder – Q-Grip is a flexible and adaptable "one-size-fits-all" holder for bottles, test tubes, reaction containers, and filters of up to 120 mm or nearly 5". Available as accessory option YFH01MS, it fits on all Cubis semi-micro balances and analytical balances. Simply use it in place of the original weighing pan. Its individually adjustable angle ensures that you can maintain an ergonomic posture during filling and pipetting to transfer samples into various containers
Q-Stat Ionizer –  At the touch of a key, the Q-Stat ionizer integrated into the DI draft shield (see p. 16), eliminates electrostatic charges within seconds from sample containers and substances, preventing any interference with your weight measurements. The effective principle of four ion jets ensures that no disruptive air currents are generated during charge neutralization. This ensures that you will obtain stable and correct weighing results – independently of the ambient conditions.
Cubis Leveling
Cubis shows the level indicator on the display and provides support for rapid leveling (a standard feature on MSA and MSU display and control units; for MSE units, only symbols are provided to support manual leveling).
Fully automatic, motorized Q-Level leveling at the touch of a key (available for all Cubis weighing modules with a weighing capacity of > 6.1 g and < 6,200 g).
Test and Approval Certificates
Standard certificate of conformity to specifications
Like ØØ, but with a detailed test report
Factory-calibrated with European verification certificate (not for models with DF draft shield)
Cubis Draft Shields
Flat, stainless steel weighing pan with no draft shield for weighing modules with a pan size of 206×206 mm and 400×300 mm
Flat, stainless steel weighing pan draft shield (removable, with no glass components) for all precision balances with a readability of 1 mg and weighing module 5202S.
Manual glass draft shield for precision balances with a readability of 1 mg and weighing module 5202S.
Manual glass analytical draft shield chamber, with smooth-action doors that open wide and provide unimpeded access to the weighing chamber without interfering braces. For all models with 0.01 mg, 0.1 mg and 1 mg readability and weighing module 5202S.
Automatic, glass-motorized draft shield with learning capability for user-friendly operation and easy customization to the changing requirements of different applications. For all models with 0.01 mg, 0.1 mg and 1 mg readability and weighing module 5202S.
Identical to the DA draft shield, but also includes an integrated ionizer to eliminate interfering electrostatic charges on samples and sample containers
Automatic, motorized, round 100% glass draft shield with learning capability for ultra-micro and microbalances with readability of 0.0001 mg and 0.001 mg (2.7S, 6.6S, and 3.6P weighing modules).
Manual, stainless-steel draft shield for weighing filters with diameters of up to 50 mm (75 mm and 90 mm pans optional). Designed to minimize the effects of static electricity (not for weighing module 3.6P).
Interface Module Options
RS-232 interface, 25-pin
Bluetooth® interface
RS-232 interface, 9-pin, incl. PS/2 interface
Cubis Optional Accessories
Printers and Communication
Verifiable data printer for connection to RS-232, 25-pin accessory interface
Verifiable data printer with Bluetooth® data transmission (with YDO01MS-B or option IB only)
Color ribbon for YDP10-0CE and YDP10BT-0CE
Paper rolls for printer YDP10-0CE; 5 rolls, each with 50 m
Data interface Bluetooth® for wireless connection of data printer YDP10BT-0CE
RS-232C data interface, 9-pin including PS/2 for connecting a computer or keyboard
RS-232C data interface, 25-pin for connection of Cubis® accessories
Display cable, 3 m, for Cubis® MSA and MSU models, for remote setup of display and weighing unit (installation by Sartorius Service or in the factory [order VF4016])
Display cable, 3 m, for Cubis® MSE models, for remote setup of display and weighing unit (installation by Sartorius Service or in the factory [order VF4016])
Cable, 3 m, between weighing module and electronics module for Cubis® models with 0.01 mg|0.001 mg|0.0001 mg readability
Installation display cable, 3 m, for Cubis® models, for remote setup of display and a weighing unit
RS-232C interface cable to connect the computer with a 9-pin COM port, length 1.5 m
SartoCollect software for data communication between balance and PC
Displays and Input|Output Elements
MSA control unit with color TFT graphic display and touch screen
MSE display unit with backlit liquid-crystal and tactile keys
MSU control unit with backlit b|w graphic display and tactile navigation keys
Barcode scanner with connecting cable, 120 mm reading range
Footswitch for printing, starting, or using a different function key; key function selectable by menu code, incl. T-connector
Infrared sensor for touch-free activation of functions (e.g., controlling the draft shield)
Hand switch for printing, taring, or using a different function key; key function selectable by menu code, incl. T-connector
Footswitch for activating the OPEN|CLOSE draft shield functions (only in combination with DA and DI draft shield), taring and printing
Additional display, LCD, digit height 13 mm, backlit
3-segment check weighing display, red-green – red, for plus|minus measurements, incl. T-connector
Weighing Accessories
Weighing scoop of chrome-nickel steel, 90 + 32 × 8 mm
Aluminum weighing scoop, 4.5 mg (250 units) for ultra-micro and microbalance models
Aluminum weighing scoop, 52 mg (50 units) for ultra-micro and microbalance models
Support arm for 10 |100 mg precision weighing modules for raised mounting of MSE, MSU, and MSA display and control units
Support arm for precision weighing modules with 100 mg | 1 g readability and weighing capacity > 20 kg for raised mounting of MSE, MSU, and MSA display and control units
Hook for below-balance weighing; for precision weighing modules with 100 mg |1 g readability and weighing capacity > 20 kg (not for models verified for use in legal metrology; selectable CE features)