Weighing Machine with Printer | 15kg/30lb & 30kg/60lb | Label Printing Scale

Designed for weighing and label printing in supermarkets, groceries, and other retail stores, the Weighing Machine With Printer – CAS is  Touch Screen Label Printing Scale, delivers crisp, easy to read labels for all users. Graphics are rich & colorful with a responsive 10.2-inch touch display.
Weighing Machine with Printer we specially designed this equipment with many advanced features, high-quality construction, and user-friendly menu-driven programming. We are confident that you will find the Weighing Machine with Printer scale will meet all of your most demanding needs.
Weighing Machine with Printer – CAS Overview
10.2" LCD Touch Screen:-
Full color 10.2" TFT LCD display presents pictures and PLUs vividly with minimal reflections. Responsive smart touch features provide easy navigation for quick access to any PLU call up.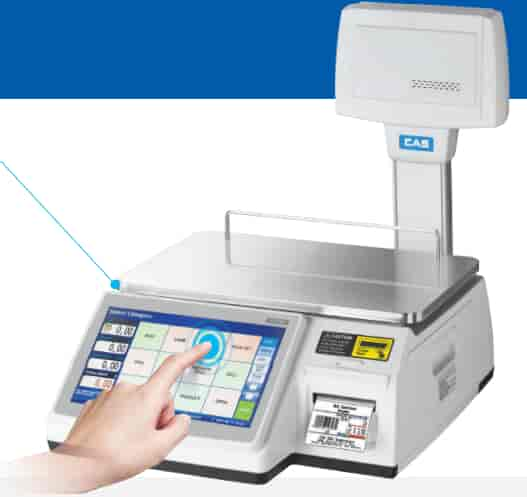 7" Display for Customers:-
The 7-inch TFT LCD customer side display provides vivid full-color graphics complete with audio. Display images or videos for your customers. Perfect for advertisements or brand awareness campaigns.
PLUs
The Weighing Machine with Printer or Label Printing Scale comes standard with 72 PLU keys on the home panel. Customize the PLU keys to suit your needs. Add product images or use simple text. Add additional PLU keys or Category Keys, change sizes, or add more PLU key pages within the category.
PLU's can be set up directly in the scale using the intuitive interface or created using CL Works Pro software.
Integrated Printer
The Weighing Machine with Printer is equipped with an integrated direct thermal printer that produces clear 202 dpi label printing with printing speeds up to 100mm/sec. Various die-cut or continuous label sizes can be used up to 60 mm (56 mm printable) wide and 200 mm in length.

Quickly & Easily Change Labels
Simply replace your labels with the removable, easy-to-use label cassette – takes only a few seconds to complete. The label cassette access door is conveniently located at the side of the scale, designed for quick label roll replacement.
Labels
45 Standard Labels and 20 Custom Labels Labels Available Printed Elements
Vertical Barcodes
Ingredients
Nutrition Facts
Sales Discounts
Graphics
Multiple Languages
And More!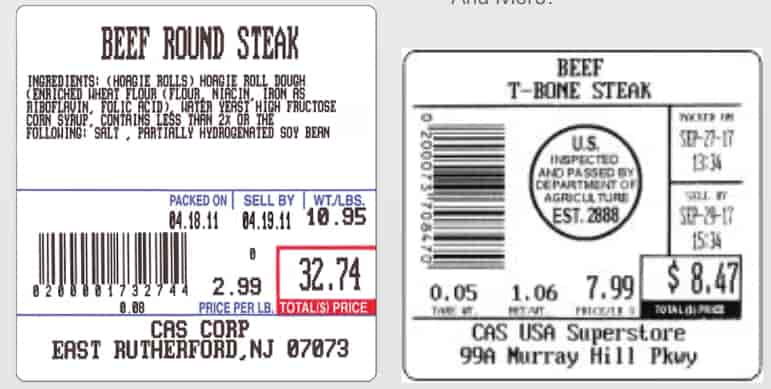 Software for weighing machine with a Printer or Label printing scale
Data Editing –  Our software offers an easy-to-use data editing solution for businesses in supermarkets, grocery stores, delicatessens, and other retail markets. Manage all retail activities from PLUs to label formats.
Data Analysis – Our software provides a solution for analyzing sales data quickly, easily, and accurately. The accumulated data would become an asset for users who want to get deeper insights from the data in order to make better predictions.
Compatibility –  Our software is compatible with all CL Series Label Printing Scales that use the most recent firmware. Control multiple scales remotely and efficiently manage your retail process.
Networking Capabilities in Weighing Machine with Printer
TCP/IP Communications
100 Base T Ethernet
IEEE 802.11 g/n Wireless
Features of Weighing Machine with Printer – CAS or Label Printing Machine
30 lb & 60 lb Models – Dual Range
60 lb & 300 lb Remote Platforms
4,000 PLU's with Direct Ingredient Message in PLU data file
45 Standard Label Formats/20 Custom Label Formats
High-Speed Thermal Printer
USB or PC Firmware Upgrades
USB Program Back-up and Restore
Multiple barcode formats
Ethernet/Wireless Network Capabilities Built-in
English or Spanish Characters
CL Series Menu Code System
Remote Access for Support / Built-in Diagnostics
Works with CL-Works Pro Software Package, PLU Editor – Label Editor – Keypad Editor, Compatible with Microsoft Windows® 10.
Works with Invatron's E-PLUM Scale Management and ADC's InterScale Scales Manager software.
Approvals –  Legal Metrology Department & Weight and Measurement Department.
Weighing machine with printer comes with Calibration and verification Certificate and Government Stamping.
Free Same day delivery and Installation in Noida, Greater Noida, Ghaziabad & Delhi NCR.
Weighing Machine with Printer
Maximum Capacity
15kg/30lb
30kg/60lb
150 kg/300 lb
Weighing Capacity
15 kg / 30 lb Capacity Dual Range
0 – 15 x 0.005 lbs / 15 – 30 x 0.01 lbs
0 – 6 x 0.002 kg / 6 – 15 x 0.005 kg30 kg / 60 lb Capacity Dual Range
0 – 30 x 0.01 lbs / 30 – 60 x 0.02 lbs
0 – 15 kg x 0.005 kg / 15 – 30 kg x 0.01 kg150 kg/300 lb Capacity Dual Range
0 – 150 x 0.05 lbs / 150 – 300 x 0.1 lbs
0 – 60 x 0.02 kg / 60 – 150 x 0.05 kg
Max Tare
6 kg/15 lb
15 kg/30 lb
30 kg/60 lb
60 kg/150lb
A/D Conversion Rate
Approx. 8 times/sec.
Measurement Type
Load Cell
Platter Size
15 in x 9.75 in / 380 mm x 250 mm
20.25 in x 15.5 in / 515 mm x 395 mm
Key
99 Category Keys – 20 Speed Key Pages/Category available – Max 72
1×1 Size Keys/Page – 36 Function Keys
Units
lb/kg
Display
Operator:
10.2-inch Graphic Touch LCD
Tare: 4 digit
Weight: 5 digit
Unit Price: 6 digit
Total Price: 6 digitCustomer:7 inch Graphic LCD
Tare: 4 digit
Weight: 5 digit
Unit Price: 6 digit
Total Price: 6 digit
Print Speed
100 mm/sec
Print Resolution
202 dpi
Label Size
Width: 40 mm~60 mm
Length: 30 mm~200 mm
Barcode
UPC, EAN13, EAN13A5, I2OF5, CODE128, CODE39, CODE93, CODABAR
Font
Small, Middle, Large Size, Italic, Bold,
Underline, Through Line, Reverse
Printer Type
Direct Thermal Print
Operating Temp
-10°C ~ 40°C (14°F ~ 104°F)
Power
AC 100 ~ 240V 50/60Hz 1.5A
Get Free Delivery, Installation &  COVID-19 Guidelines
Get Free Delivery & Installation of all Weighing Scale in Only Delhi NCR – Noida, Greater Noida, Ghaziabad, Delhi, Gurugram, and Meerut (Note* –  UP Scales don't provide delivery & installation in outer Delhi NCR).
Our Delivery & Installation Engineers follow all COVID-19 guidelines while delivering & Installation of Weighing Scales given by the Indian Health Ministry and World Health Organization.