Weighing Scale Portable | Capacity 150 lbs, 300 lbs, 500 lbs & Accuracy 0.02 lbs, 0.05 lbs, 0.1 lbs
Weighing Scale Portable is Lightweight and easy to carry! Equipped with a large LCD display which is also detachable for easy viewing. The Portable Weighing Scale Series can be connected to receipt printers or a PC via the RS-232C interface. This Weighing Scale Portable is perfect for shipping & receiving, hospitals, schools & fitness centers.
Portable with easy to carry handle
With Calibration Certificate and Government Stamping by Legal Metrology Department & Weight & Measurement Department
300 hrs of continuous use (Alkaline Batteries)
Available capacities: 150, 300, & 500 lbs
Lb/kg switchable
RS-232C interface
Backlight
Detachable display
Auto power-off
Auto zero tracking
Legal for trade
Specification of Weighing Scale Portable
SPECIFICATIONS OF WEIGHING SCALE PORTABLE
Maximum Capacity
150 lbs
300 lbs
500 lbs
Accuracy
0-60 x 0.02 lbs
60-150 x 0.05 lbs
0-150 x 0.05 lbs
150-300 x 0.1 lbs
0-250 x 0.1 lbs
250-500 x 0.2 lbs

External Resolution

1/3,000
(Dual interval)
1/3,000
(Dual interval)
1/2,500
(Dual interval)
Display Digit
6 digits (weight)
Display Type
5 Digit (0.92 inch)
Symbols
LCD
Keys
STABLE, ZERO, NET, TARE, HI/OK/LOW,
BAT, PCS, POWER, MINUS, KG, LB
MAX Tare
Functions
DC 9 V (6 – Size "C") – Mn, Alkaline Battery
DC 12V 850 mA AC Adapter
Interface
Approx. 0.15 W
Operating Temp
Alkaline Dry Battery: 300 hr
Power
15.7 (W) x 20.7 (D)
Battery Life
16.7 (W) x 26.6 (D) x 29.7 (H)
Platter Size
38.4 lbs
Dimensions
inch: 14.0 (W) x 24.2 (D) x 3.3 (H)
mm: 355 (W) x 615 (D) x 85 (H)
Product Weight
14.5 lbs / 6.6 kg
Approvals
NTEP: 11-056
Warranty
One year
Weighing Scale Portable Features
Easy-to-carry
Detachable LCD display
Backlight
Auto Power-Off
Auto Zero Tracking
Rechargeable or Dry Cell Battery
Rechargeable Battery Included
Calibration Certificate and Government Stamping by Legal Metrology Department
Free Same day delivery and Installation in Ghaziabad, Noida, Greater Noida & Delhi NCR
Weighing Scale Portable Options
DEP-50 Receipt Printer
Wall Mount Bracket
Application or Use of Weighing Scale Portable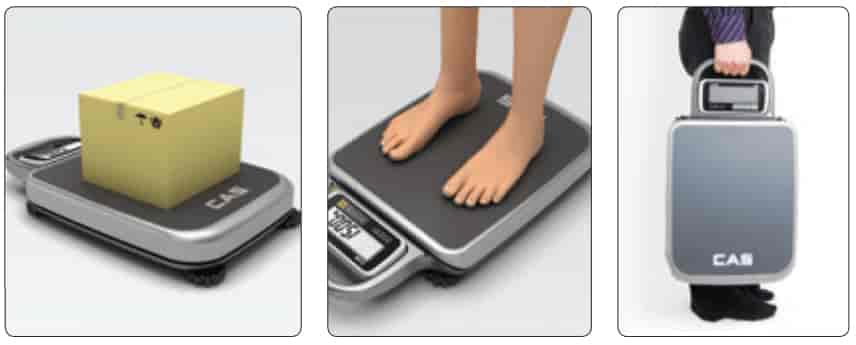 Shipping & Receiving
Farmer's Markets
Hospitals, Schools & Fitness Centers
Get Free Delivery, Installation &  COVID-19 Guidelines
Get Free Delivery & Installation of all Weighing Scale in Only Delhi NCR – Noida, Greater Noida, Ghaziabad, Delhi, Gurugram, and Meerut (Note* –  UP Scales don't provide delivery & installation in outer Delhi NCR).
Our Delivery & Installation Engineers follow all COVID-19 guidelines while delivering & Installation of Weighing Scales given by the Indian Health Ministry and World Health Organization.